Discover more from next big thing
weekly essay by a venture capitalist (@nbt) in search of the next big thing
Over 16,000 subscribers
The Consumerization of Healthcare
One of the most powerful trends in the U.S. economy has only just begun.
Welcome to issue #21 of next big thing.
I made an appearance on the Altogether Show last week, hosted by my friend Eric Satz. Check out the episode here, or in your favorite podcast player. I'm a bit behind on publishing screenshot memos, having made a number of investments in the past few months, but did release one yesterday. Finally, I've added a section after today's essay with an article that moved me this week. I may occasionally do this in future issues.
---
Last month, I discussed the crisis we are currently facing in mental health, and the opportunities for technology to help solve it.
Today, I'm thinking about the broader healthcare technology landscape.
In the business world, mergers such as Teladoc-Livongo, and a flood of IPOs such as GoodRx, One Medical, Clover Health and Hims, have put a spotlight on shifts in the healthcare industry. In our personal lives, we are being forced to think about our own health every day in new ways because of the pandemic.
This all points to the acceleration of a trend that has been in the works for the past decade: the consumerization of healthcare. As trillions of dollars shift over the coming years, there will be many chances to build the next big thing riding this market force.
---
Policy and Technology Have Driven Changes
Just over a decade ago, the Affordable Care Act (ACA) was signed into law in the U.S. The ACA fundamentally reshaped our healthcare system, by mandating insurance coverage for individuals, incentivizing quality over quantity of care, requiring reforms to the system such as the adoption of electronic health and medical records, changes to Medicaid, Medicare, and women's health coverage, and much more.
While millions more Americans have health insurance coverage as a result of the ACA, the system-wide costs of healthcare have continued to rise in the past decade. Insurance has born the brunt of that increase, although out-of-pocket costs have also risen, both on a raw dollars and per capita basis. The chart below and data from the Peterson-KFF Health System Tracker are worth digging into if you're curious.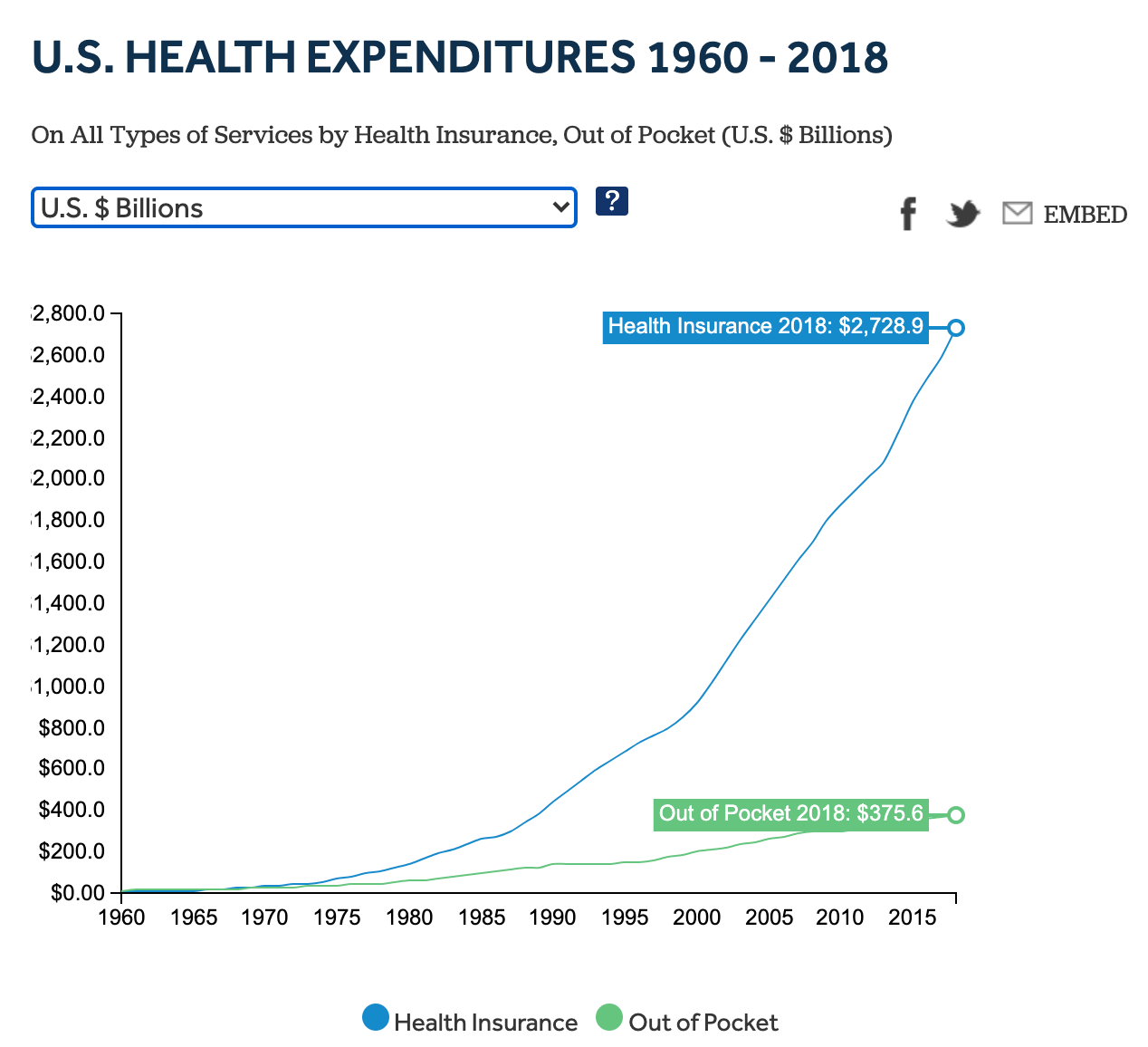 This data is from
Health System Tracker
, a partnership between the Peterson Center on Healthcare and the Kaiser Family Foundation. Out of Pocket health expenses reached a record $375.6 billion in 2018, representing $1,150 per capita. Health Insurance expenditures reached a record $2.7 trillion, growing at a faster rate than Out of Pocket.
Along with the move towards insurance plans with higher deductibles, rise in out-of-pocket spending, and other effects of the ACA, federal and state regulations such as recent changes to telemedicine laws have altered the healthcare experience for many people. While it remains to be seen what the telemedicine regulatory landscape will look like post-pandemic, telemedicine visits as a fraction of total doctor visits spiked in Q2 2020, and remain at an elevated level from the start of the year.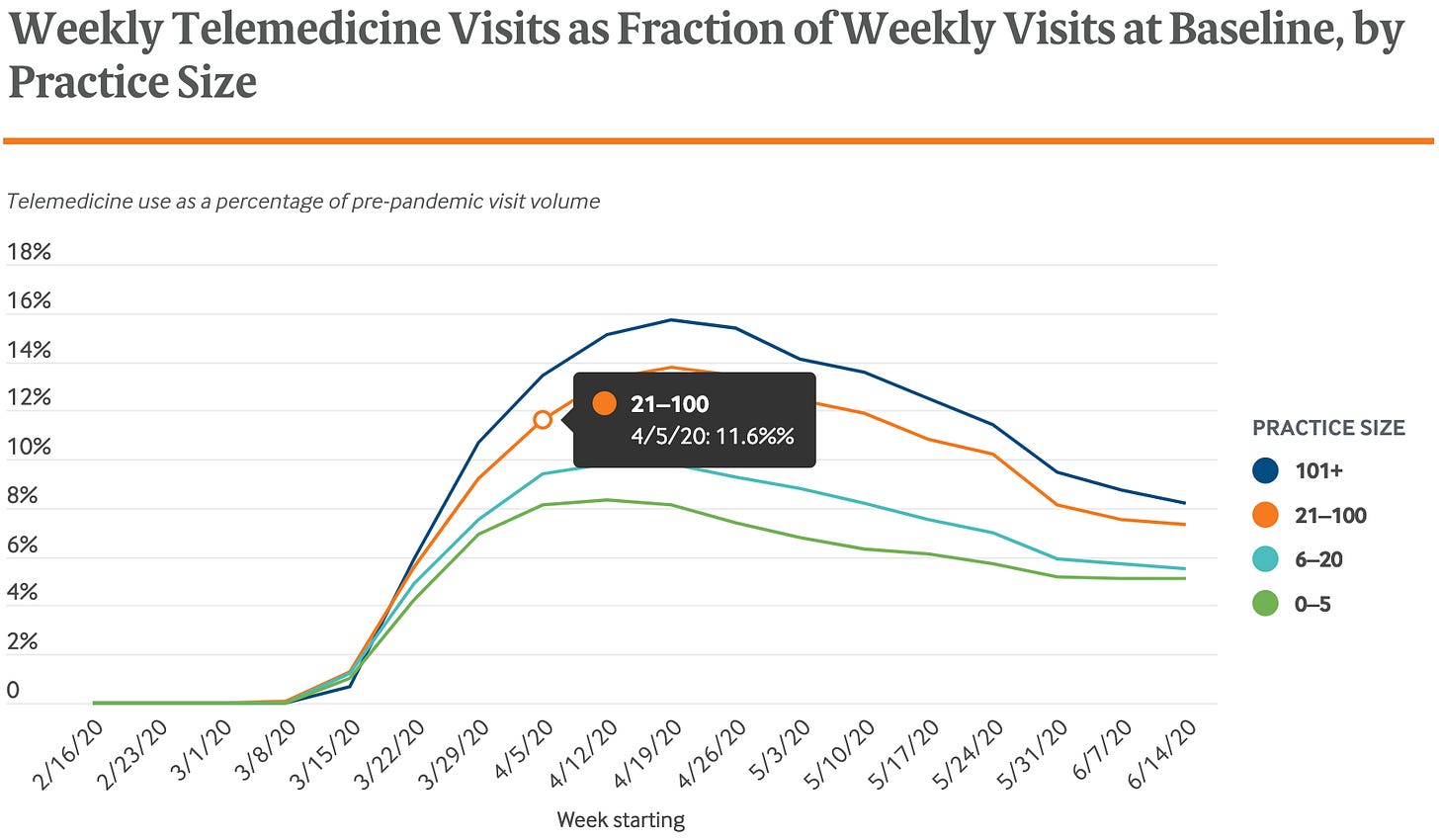 Data from a study by the
Commonwealth Fund
that measures telemedicine visits as a percentage of overall visits (telemedicine and in-person) against the baseline of pre-pandemic level telemedicine usage.
Of course, it's not just regulation that has changed the healthcare industry over the past decade. Smartphones and cloud services have reshaped consumers' and businesses' use of technology. Take telemedicine for instance. On demand synchronous telemedicine via two-way video call was not possible until the past five years, as the quality of front-facing cameras, broadband connections, and penetration of smartphones all increased to enable it for both providers and consumers.
The bar for automation through technology and for the quality of the user experience in every industry has increased over the past decade. And the bar has unfortunately been very low in healthcare for a long time. This, combined with the rise in out-of-pocket spending, and the wider spread use of options such as telemedicine, means that the consumer experience of healthcare is changing, and ripe for further change.
Deluge of Recent Successes With Consumers At The Center
One of the main barriers to adoption of technology in the healthcare industry has been the challenge of getting distribution for new products and services. For businesses such as insurance companies (payers) and hospital systems (providers), sales cycles are long, and the regulatory landscape leads to RFPs and heavy analysis of compliance, which benefits incumbents over startups. For consumers, it's been a challenge to sell directly, given that the historical consumer mindset has been to follow providers and to think of healthcare not as something they choose to consume.
This has changed over the past decade, partially as a result of policy and technology as detailed above. The evidence of this shift is clear in some of the recent success stories in healthcare technology entrepreneurship.
Livongo is a healthcare technology company that offers programs to enable those with chronic conditions to live better and healthier lives. The company started with a coaching offering for diabetes patients, direct to consumers, but has scaled by selling into enterprises, serving employees as end users, and by expanding beyond diabetes to enable treatment for hypertension, weight management, and more. Livongo went public in 2019. In its S-1 filing, there are over 50 uses of the word "consumer," with Livongo repeatedly referring to its product as a "consumer-first experience." It is this consumer DNA that helped propel Livongo to a $18.5 billion merger with Teladoc Health, announced a few months ago. The first bullet point from the merger announcement states that the combined entity is:
The only consumer centered virtual care platform for full spectrum of health needs to address accelerating consumer and client demand.
This is the third biggest acquisition in the U.S. across all industries in 2020, and the thesis revolves around the consumerization of healthcare.
But Teladoc-Livongo (or Teladongo 😅) is just one of several high profile healthcare technology success stories of the past year that put consumers at the center of the experience.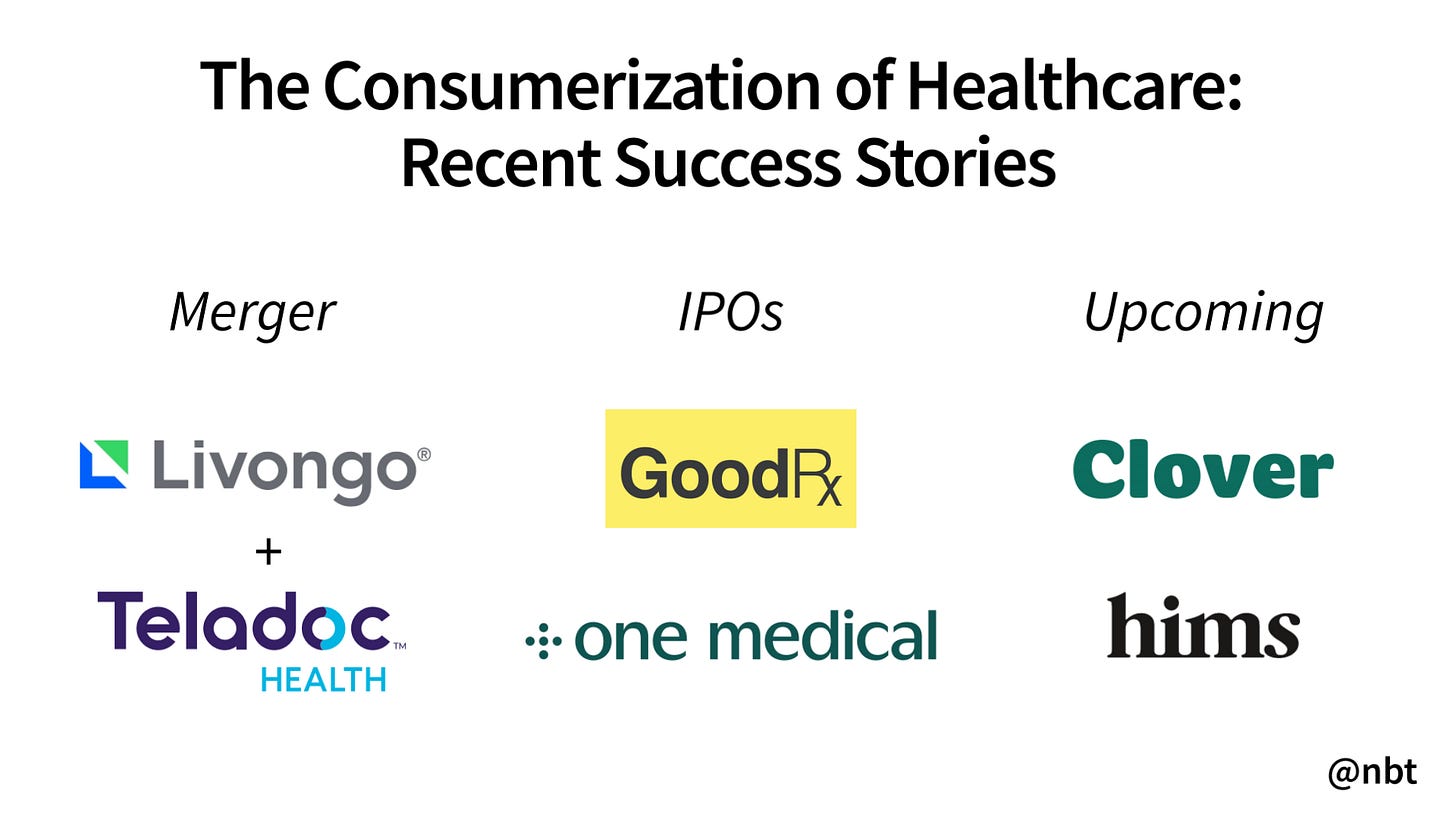 One Medical, a membership-based primary care platform, targets consumers and employers as customers. It counts over 475,000 consumers as members today, and in its S-1 filing from its IPO earlier this year, it backs up the unmet need in healthcare for consumers with statistics such as the following:
81% of consumers are dissatisfied with their healthcare experience, in part due to limited after-hours and digital access, long wait times for appointments, extended in-office delays, short and impersonal visits, uninviting medical offices in inconvenient locations, constrained access to specialists and a lack of care coordination across clinical settings.
I can certainly relate to these frustrations with today's healthcare system, as I'm guessing you can too. One frustration not listed above is the cost of care, which, as mentioned earlier, is increasing. GoodRx, another company that went public this year, taps into the dissatisfaction with healthcare's price by offering a price comparison tool for prescription drugs. From the company's S-1 filing:
Our mission is to help Americans get the healthcare they need at a price they can afford. To achieve this, we are building the leading, consumer-focused digital healthcare platform in the United States.
Sound familiar? GoodRx, One Medical, and Livongo are all recently public companies, with a combined market cap of close to $40 billion, but there are several more companies preparing to go public that point to the acceleration of the consumerization of healthcare. Hims & Hers, a telehealth platform that enables consumers to get care and medication for various specialties, including sexual health, dermatology, and more, is going public via a merger with a special purpose acquisition company (SPAC) by Oaktree. From the announcement earlier this month:
The future of healthcare will be led by consumer brands that empower people and give them full control over their healthcare. A direct relationship with consumers is the most valuable component in the healthcare system. Hims & Hers has endeavored to build a healthcare system that squarely focuses on the needs of the healthcare consumer. Hims & Hers directs the consumer experience from start to finish, uniquely positioning the Company in the rapidly-emerging telemedicine landscape to lead the industry in B2C-focused telehealth solutions.
And it is not just in digital health where the consumerization of healthcare is unfolding. It's happening in insurance, too. Clover Health, a Medicare Advantage business, announced earlier this month its plans to go public via a merger with a SPAC by Social Capital. The presentation on the merger points to design for the consumer as one of Clover's key advantages, with a better experience and a better price for seniors than alternative Medicare Advantage options. There are rumors of other end user-driven insurance providers such as Oscar Health going public soon.
Simply put, this isn't just a smattering of success. It's an absolute deluge. And covid-19 has further accelerated change in the healthcare industry, making it likely that even more big winners are coming.
The Consumerization of Healthcare in 2020 and Beyond
I've been following the consumerization of healthcare trend for many years, and am more excited about it than ever before.
Why? In addition to policy and technology driving consumers to pay more attention than ever to healthcare, and to all the recent successes in the category, the single biggest accelerant to this trend for the next decade may be the pandemic that we've all been living through in 2020.
Covid-19, mask-wearing, hand-sanitizing, a greater understanding of viruses and transmission in the general public, timing around a vaccine — all mean that more people than ever before are likely paying attention to their own health and healthcare.
I'm seeing the acceleration show up in the data at companies* I've invested in such as Athelas, Color and Pill Club. The combination of telemedicine and pharmacy delivery embodied in Pill Club's model (as in that of Hims, Nurx, and Ro's) was one of the first healthcare services that found clear and widespread product-market fit directly targeting consumers with traditional customer acquisition techniques used by internet brands. Going forward, I expect that we'll see more and more healthcare technology companies built this way. I'm not the only one, of course, who thinks this. Indeed, the two biggest consumer retailers in the U.S., Amazon and Walmart, clearly have their eyes on the prize in healthcare.
Distribution directly to consumers does come with obstacles — regulatory, of course, but also payers and providers still need to be bought in for services to be effective for and trusted by consumers. Go-to-market via self-insured employers, which Livongo, One Medical, and others have used effectively, is an important channel to reach end-users, given the alignment between employers and employees to be healthy (and drive down costs!). But it's clear that what's best for the patient, who is the end consumer, is increasingly going to be prioritized in healthcare, as it should be.
The next big thing in healthcare will be a better experience for consumers, directly targeted at consumers, and with consumers at the center to catalyze much-needed change in the healthcare industry.
---
In Memoriam. Dr. Sam Gambhir reimagined the field of cancer. Then he got cancer. Madeline Drexler published an incredible and heart-wrenching profile yesterday of Dr. Gambhir in The Atlantic: A Medical Revolution Too Late for the Man Who Started It.
---
Thank you to Deepika Bodapati, Shabdha Chigurupati, and Sunil Bodapati for your feedback on this draft.
I started next big thing to share unfiltered thoughts. I'd love your feedback, questions, and comments!
*for a list of companies I'm affiliated with as an investor, see my Substack about page.