Discover more from next big thing
weekly essay by a venture capitalist (@nbt) in search of the next big thing
Over 16,000 subscribers
Welcome to issue #5 of next big thing.
---
Racism in America is like dust in the air. It seems invisible — even if you're choking on it — until you let the sun in. Then you see it's everywhere.
---
One Quote and Two Images
My wife, Chandrika, read Between the World and Me by Ta-Nehisi Coates, in the fall of 2015, and told me that I had to read it. I remember starting and finishing the book in a day, as I was thoroughly engrossed by Ta-Nehisi's personal story and moved by his words for his son.
The questions he raised about the Struggle and the Dream and the reality of being Black in America have stuck with me since, captured by this harrowing quote:
In America, it is traditional to destroy the black body - it is heritage.
It is heritage.
I grew up being brown in Britain, and I thought when I first moved to America that I could empathize to some degree with racial injustice here. But it's the heritage of oppression against the Black community in America that is just fundamentally different.
Ahmaud Arbery, Breonna Taylor, George Floyd, and how many other members of the Black community murdered in 2020 alone? Systemic racism in America has been pervasive for all of its history. Black lives matter, and we can only be on the right side of history as a society if we act now to make systemic changes.
Beyond these words from Ta-Nehisi, there are two images seared into my brain from this past week.
The first image is of George Floyd, on the ground, in handcuffs, with a police officer kneeling on his neck, murdering him. I hope that we don't forget this, that justice is served for this despicable act, and that we can work together to stamp out police brutality in our country.
The second image is of Colin Kaepernick, the NFL player, kneeling during the national anthem in protest against police violence and institutionalized racism after a series of killings of African Americans by police in 2016. Colin was vilified for this peaceful protest by many people, including NFL owners and government leaders. He hasn't played professional football since that season.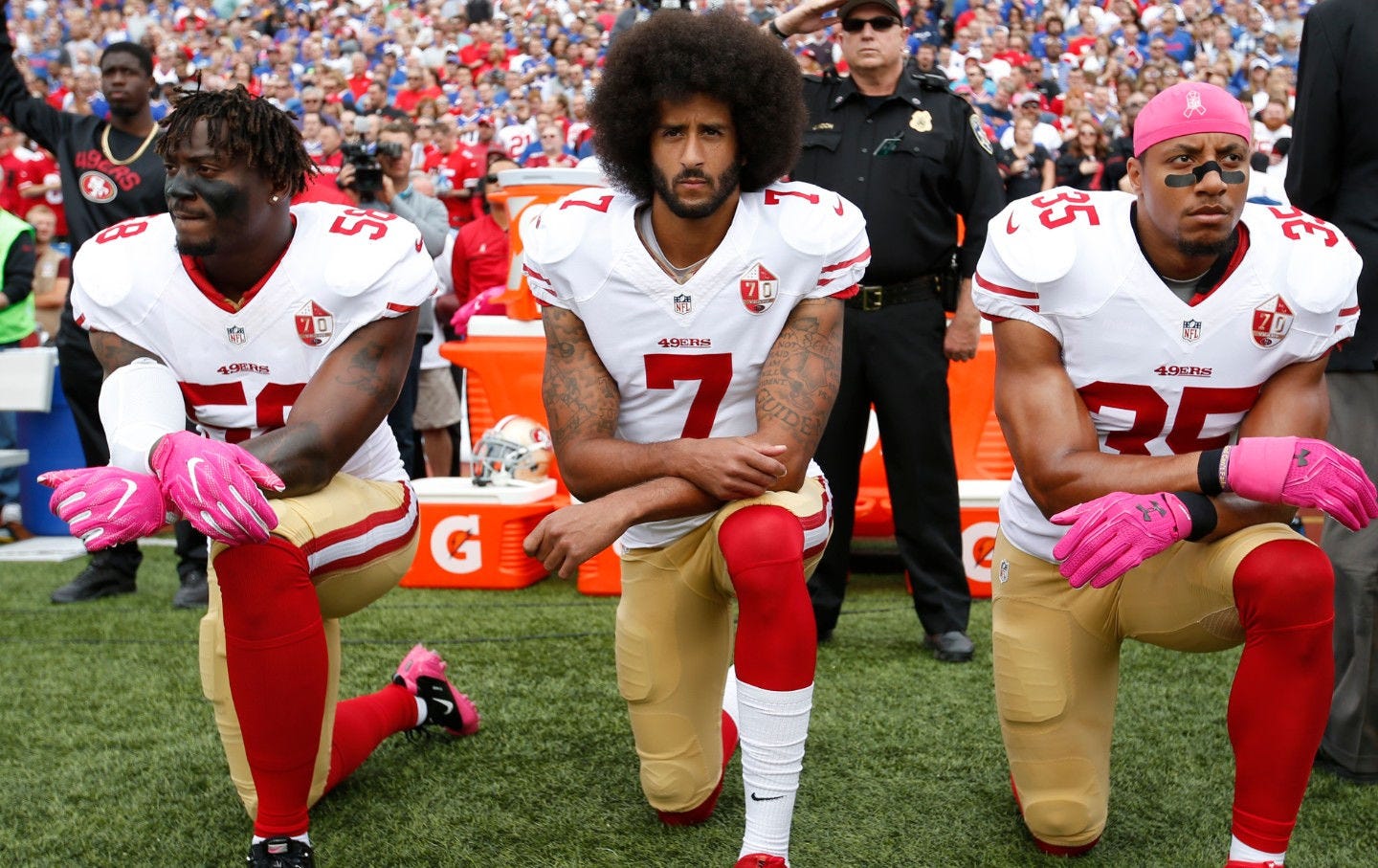 Eli Harold, Colin Kaepernick, and Eric Reid of the San Francisco 49ers kneel in protest during the national anthem in October 2016 in New York.
But Colin Kaepernick was on the right side of history. He tried to use his platform to stand up (rather, kneel down) to injustice, and he was right to do it.
In the four years since, we have been confronted with the same issues over and over again, only they are now better documented through photos and videos of the horrific acts.
It is heritage.
Be Like Colin Kaepernick
It's been a terrible week. I found it difficult to write anything for today, and debated whether or not I should.
But being on the right side of history is something that matters. And we face choices daily, in our personal and professional lives, that can put us down the right path or deviate from it.
Will we make a choice, like Colin, to end up on the right side?
When thinking deeply about an investment decision, I ultimately come back to the question: Will this company end up being on the right side of history?
A company can check a lot of boxes to warrant funding, but if the answer to this question isn't a resounding "yes" for me, then I will not invest. The answer is a function of the founders, their values and their mission, as well as of the product and of the market. And the answer requires deep thought, research, and careful attention.
It also requires deep thought, research, and careful attention to answer the question of how to tackle systemic racism, and what we each can do to be on the right side of history on this generational issue.
I know I have much more to learn and much more to do. More Black and underrepresented founders to fund. More Black and underrepresented people to hire. More companies to support that change the arc of history for the better. More to do to ensure that we rid society of the racism and violence that has caused unimaginable pain for so many people for far too long. Now is not the time to be silent or to move on. Now is the time to listen, to learn, to speak up, and to lead.
I hope you challenge yourself this week to think about what you can do to be on the right side of history.
And if this post inspires one person to do one more thing, it will have been worth it.
---
Beyond those referenced above, here are some of the links and tweets that moved me the most over the past week:
8 Minutes and 46 Seconds: How George Floyd Was Killed in Police Custody by The New York Times.
Here's What You Need to Know About Breonna Taylor's Death by Richard A. Oppel Jr. in The New York Times.
This is why Colin Kaepernick took a knee by Sally Jenkins in The Washington Post.
Chris Cooper Is My Brother. Here's Why I Posted His Video. by Melody Cooper in The New York Times.
Facing Protests Over Use of Force, Police Respond with More Force by Shaila Dewan and Mike Baker in The New York Times.
'This can't be happening': An oral history of 48 surreal, violent, biblical minutes in Washington in The Washington Post.
East of Palo Alto's Eden: Race And The Formation of Silicon Valley by Kim-Mai Cutler in TechCrunch.
My White Boss Talked About Race in America and This is What Happened by Mandela SH Dixon.
The Black Founder List (US-Based, Venture-Backed) by People of Color in Tech.
Tech Dollars Matching For Justice by Hunter Walk.
Snap CEO Spiegel Calls for Reparations Commission, Taxes to Address Racial Injustice by Alex Heath in The Information.
Dust in the Light by Ben Thompson in Stratechery.
Rage, fear, and confusion by DJ Patil.
How to Make this Moment the Turning Point for Real Change by Barack Obama.
An Antiracist Reading List by Ibram X. Kendi in The New York Times.
A video by Trevor Noah of The Daily Show:
A TED talk by Bryan Stevenson of the Equal Justice Initiative (EJI):