Discover more from next big thing
weekly essay by a venture capitalist (@nbt) in search of the next big thing
Over 16,000 subscribers
Food Delivery and The Future of Restaurants
Could now be the best time to start a new restaurant, just one without a physical presence?
Welcome to issue #13 of next big thing.
A quick note that I'm doing a Live Town Hall today at 5pm PT about the series of essays on the venture capital industry. I'd love to have you join to ask questions and share feedback. RSVP here (it's free!).
I'm excited to leave the topic of VC behind for a bit, and to focus on markets and business models in the weeks ahead.
I've been thinking a lot about the future of the restaurant industry during the pandemic. It feels dire, and many restaurants around the country will permanently shut their doors as a result of months of low demand.
Many of the ones that survive will do so because they've adapted to online ordering and food delivery.
And that's left me pondering something counter-intuitive: could now be the best time to start a new restaurant, just one without a physical presence?
---
Food delivery: growing with lots of room to grow
Food delivery is one of the markets that has benefited from covid-19 and shelter-in-place. This recent post by Second Measure* offers some great insights into the latest data about the market in the U.S.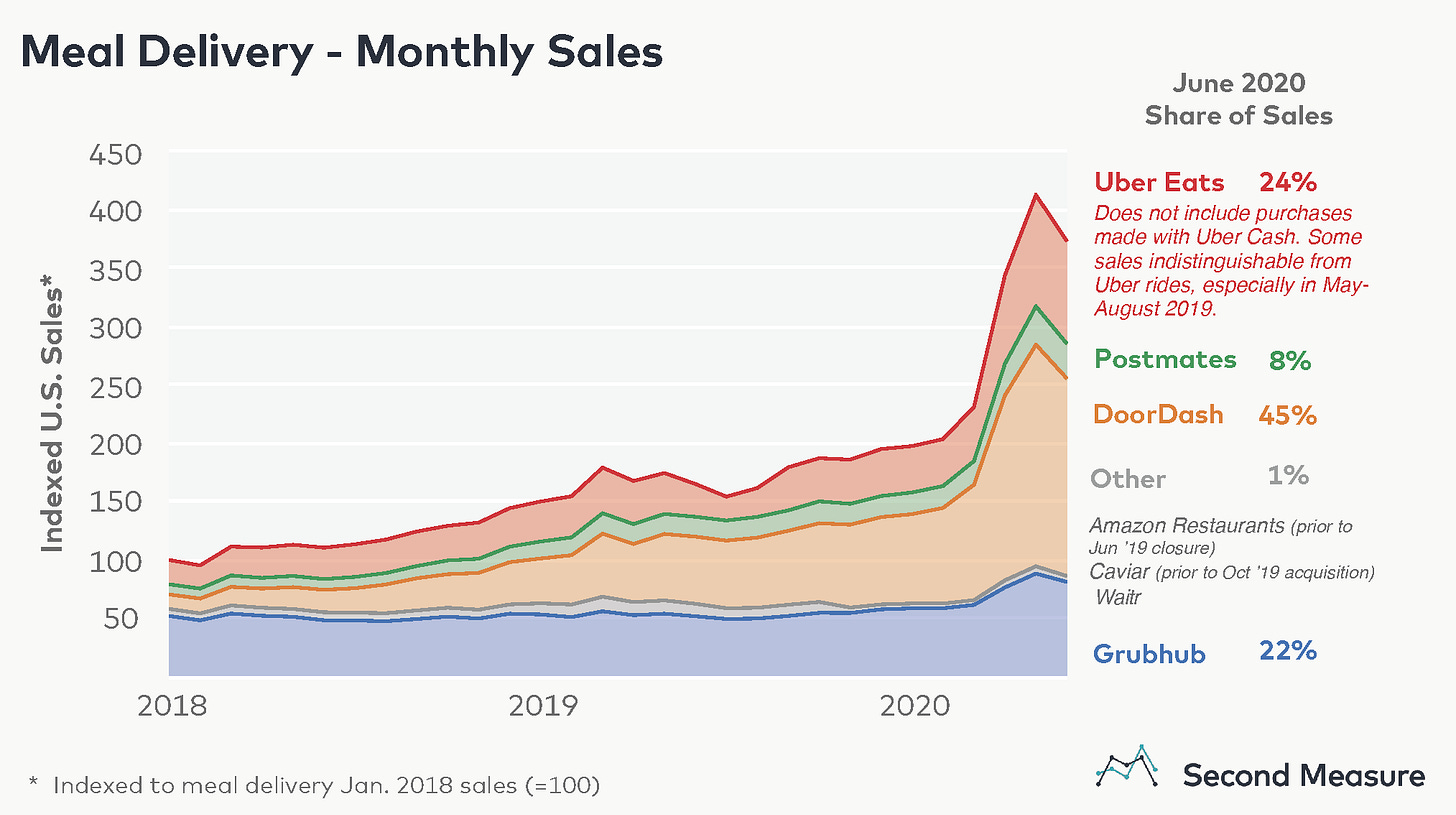 You can see in the above chart that the industry's gross sales roughly doubled from 2018 to the start of 2020, and then doubled again as the pandemic began. Sales have dropped a bit in the past month or two, but still remain at a significantly elevated level today from the beginning of the year.
What's perhaps more fascinating is that food delivery may not yet be as widespread as one may think. "In May, 29 percent of American consumers had ever ordered from one of the services," the Second Measure analysis finds. That means 70% of Americans have yet to order food delivery from any of the major services!
Several of these services offer premium subscription tiers that lead to free delivery and discounts. According to the Second Measure data in June, 17% of DoorDash's customers and 16% of Postmates' customers are subscribers, indicating lots of room to grow for frequent and loyal customers.
It wouldn't surprise me to see the number of subscribers to food delivery services grow significantly in the years ahead, such that over 100 million Americans one day subscribe to one of the services because they are habitual users. Amazon Prime, for reference, now has over 118 million users.
Restaurants: suffering, but Chipotle and Domino's show a way forward
Though food delivery is growing, restaurants are suffering. Restaurant employment has fallen to its lowest levels since 1989 in the U.S., with data from from the National Restaurant Association suggesting that employment has halved to 6 million people, from 12 million people at the start of the year.
Though many restaurants are open for business in areas without lockdowns, with outdoor dining in addition to pickup and delivery, predictions for the industry's future are very bleak. 70% of all restaurants are independent, and the Independent Restaurant Coalition published a report in June predicting that as many as 85% of independent restaurants may go out of business by the end of 2020. The financial loss for the entire restaurant industry is predicted to be $240 billion by the end of 2020.
I hope that this isn't true, but with covid-19 cases increasing by tens of thousands each day in the U.S., it's hard to foresee a return to in-restaurant dining anytime soon.
Restaurants must adapt to online ordering, pickup, and food delivery, and try to attract as many customers to these options to get through this.
Many public restaurant stocks have suffered during the pandemic, but one exception is Domino's Pizza. The company hit an all-time high stock price in July 2020, and, as the chart below shows, it has risen steadily after a dip in mid-March to be much higher than it was at the start of the year.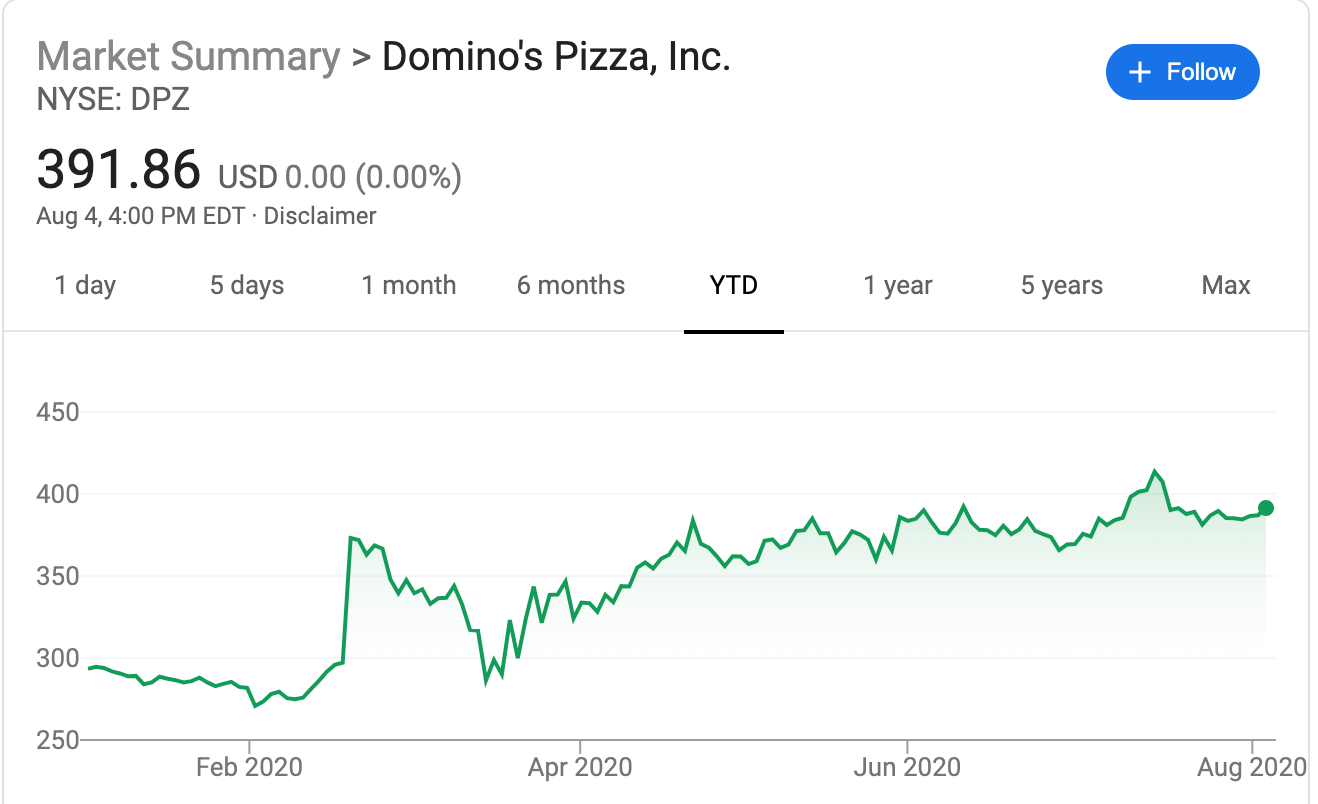 Domino's has figured out food delivery. This is one great overview of the company's strategy, with technology at the center of the company's transformation and remarkable growth (almost 200X in market cap in the past decade).
Chipotle Mexican Grill is another exception. Like Domino's, it has a mobile app, has streamlined its operations for pickup and food delivery, and is continuing to experiment with technology to improve the customer experience.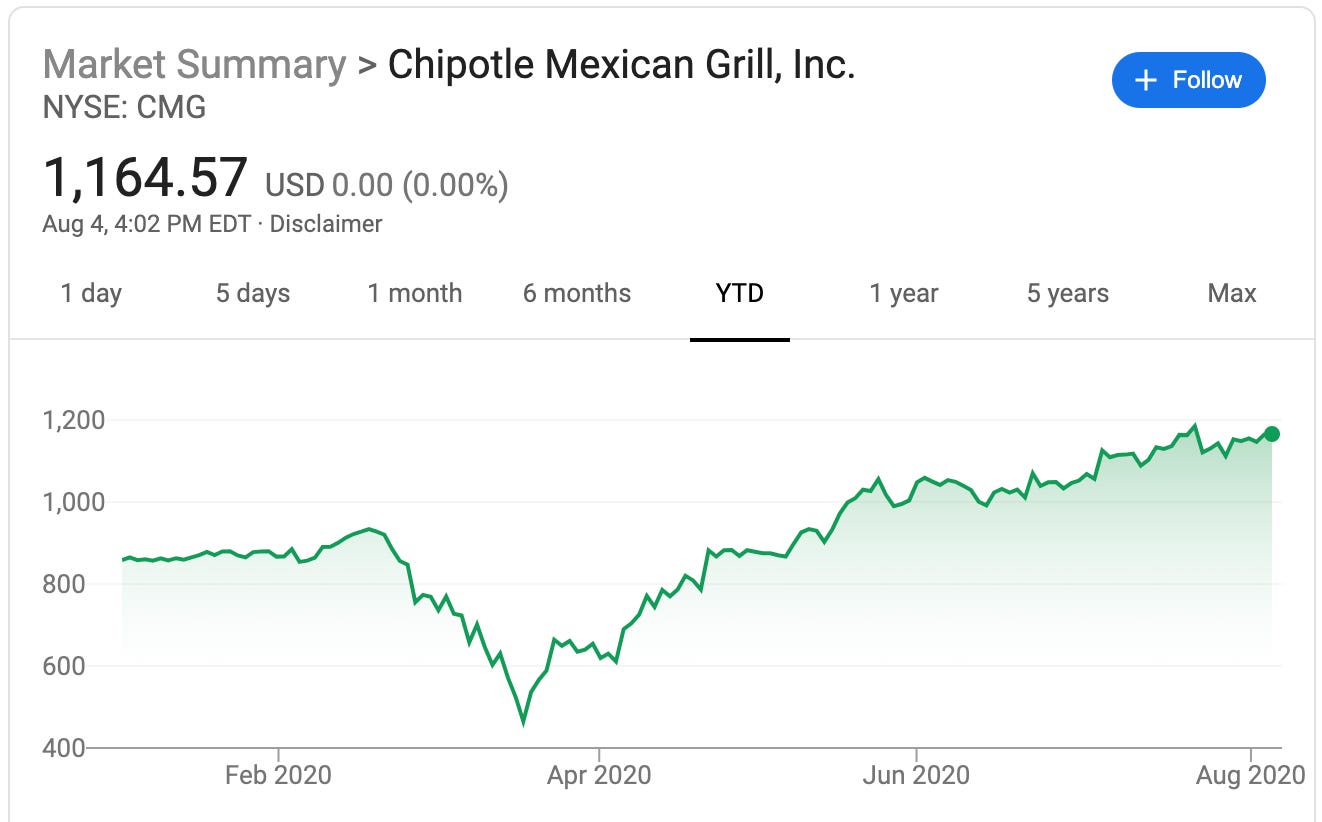 Chipotle's stock is also trading up from the start of the year and at all-time highs, like Domino's.
There are a surprising number of restaurant businesses that are public companies. Several, such as Bloomin Brands (brands such as Outback Steakhouse), Brinker International (brands such as Chili's) and The Cheesecake Factory have seen their market caps cut in half due to the pandemic.
But the ones such as Chipotle and Domino's that have adapted to food delivery, mobile and web ordering, and have used technology to streamline operations, are holding up just fine. Just check out this 2-year comparison of Chipotle ($CMG) and Domino's ($DPZ) vs. Bloomin ($BLMN), Brinker ($EAT) and Cheesecake Factory ($CAKE):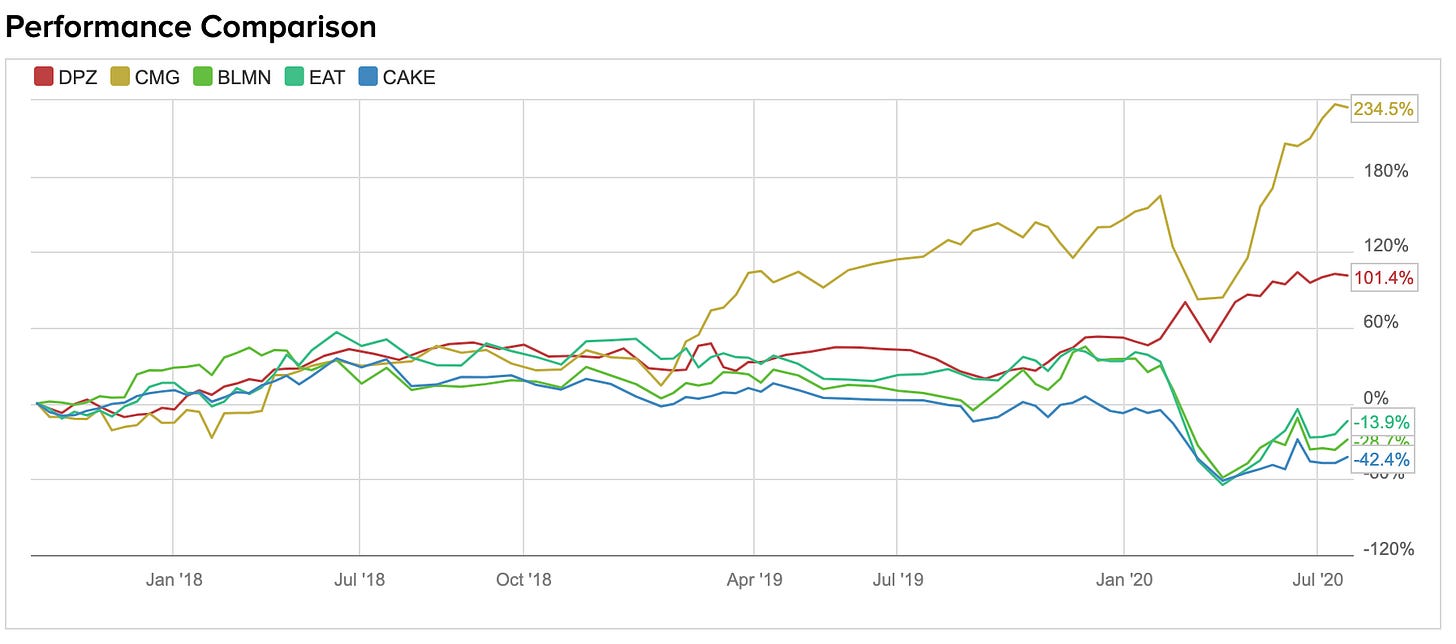 McKinsey published a piece last month about the widening gap between the top and bottom performers within industries as a result of covid-19, and the great acceleration of trends that were already underway pre-pandemic.
The restaurant industry feels no different, with the companies that have adapted to technology such as mobile ordering and food delivery the ones that are surviving and thriving.
Delivery-only restaurants: are they the next big thing?
In the last couple of years, there's been an increase in delivery-only restaurants, and excitement for the category. These businesses go by a variety of names - cloud kitchens, dark kitchens, ghost kitchens, virtual kitchens - and there were more than 4000 of them already on Uber Eats* in December 2019 according to this good overview of the category by NPR.
The concept is nothing new and there have been prior failures. Munchery and Sprig were both delivery-only restaurants that raised significant venture capital dollars and failed. But in today's environment, these delivery-only businesses seem to make more sense than ever. When built for the ground-up explicitly for delivery, kitchens can have much lower overhead and more streamlined operations. Food can be crafted and prepared with delivery in mind. Ordering systems can be purpose-built for delivery, and pricing could even be better for consumers.
One risk of delivery-only restaurants, however, is the reliance on aggregators for distribution. Given DoorDash and Uber Eats' market share, those are natural platforms for kitchens to launch, get orders, and fulfill orders through those delivery networks. The issue with this is the restaurant does not own the end customer and have a direct channel with them; DoorDash and Uber Eats do.
So perhaps new marketplaces or platforms need to be built to support entrepreneurs to build these delivery-only businesses. In my essay on entrepreneurship from home a couple months ago, I briefly discussed the experience of ordering a meal cooked by a local chef in her home kitchen. You could also imagine a business-in-a-box platform for cloud kitchens to manage their operations and own the end customer relationship as an enabling service for this category. Finally, new delivery and logistics providers may be needed to cater (no pun intended!) to delivery-only restaurants' needs.
My hope is that the restaurant industry bounces back once this pandemic is over. When it's safe again for us to be together in indoor spaces, I'm sure many people will want to go back to restaurants and to support their local favorites. But the question is how long it will take to get back to normal, and therefore how long restaurants will need to survive with lower demand to get to the other side.
In the meantime, there is so much room for innovation for cloud kitchens. Brands can be built over the next year. Habits can be cemented with consumers. And these kitchens could become restaurants with onsite tables post-pandemic, replacing some of the restaurants that have sadly gone out of business.
It wouldn't surprise me if the next big thing in the industry - the next Chipotle or Domino's or Sweetgreen or something totally unlike what we've seen before - begins life over the next year as a delivery-only restaurant.
---
Thank you to Gokul Rajaram for your feedback on the draft.
I started next big thing to share unfiltered thoughts. I'd love your feedback, questions, and comments!
*denotes a company I'm affiliated with as an investor - see my substack about page.